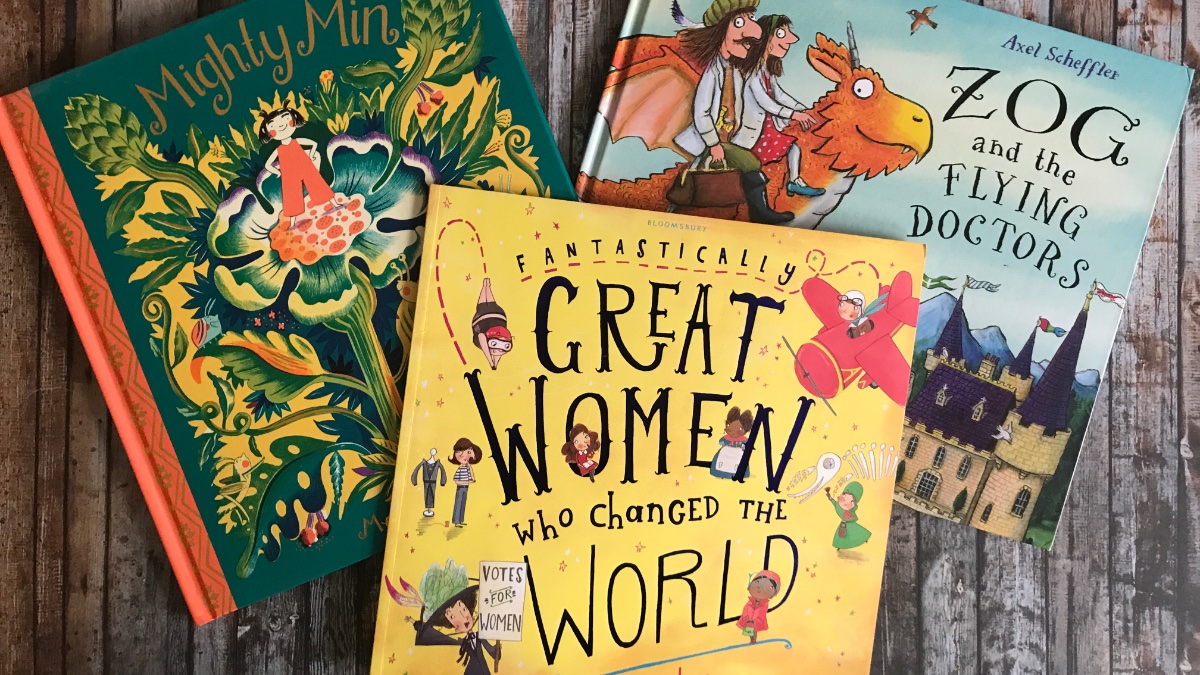 Welcome back to Part 2 of our gender stereotype busting picture books, inspired by our new Book Worm T-shirt design. Today, I've gathered together lots of fab recommendations from fellow indie business owners, all featuring feisty, fierce and formidable girls. Of course, as with our recommendations from Part 1, any of these books are great for all children to read! So, in no particular order…
Zog and the Flying Doctors, by Julia Donaldson & Axel Scheffler
Okay, so we're actually starting off with one of our own favourites. We love this book, because it has a great message that girls don't have to be princesses and wear frilly dresses and they can indeed become anything they want to be – including successful doctors!
I Can Catch a Monster, by Bethan Woollvin
Recommended by Ali from hello Dodo
"The illustrations are gorgeous and 'Bo the Brave' is such a brilliant feisty female character."
My Mummy is a Firefighter, by Kerrine and Jason Bryan & Marissa Peguinho
Recommended by Clare from Not Only Pink and Blue
When it comes to picture books that challenge stereotypes I love the 'My Mummy is …' / 'My Daddy is …' series from Butterfly Books. Not only do they challenge stereotypes and give children (and adults) an insight into different careers but they are also beautifully illustrated making them so engaging for children.
The Paper Bag Princess by Robert Munsch
Recommended by Sally from Ducky Zebra
My kids love this story of a strong, witty princess who rescues her fiancé, Prince Ronald, after he's been kidnapped by a fierce, fire-breathing dragon. The dragon has previously burned all of the princesses clothes, so she wears nothing but a paper bag during the rescue!
Izzy Gizmo, by Pip Jones
Recommended by Bex from Ninja Book Box
A gorgeous story about overcoming obstacles (including your own frustration!) and seeing things through to the end. The main character is a little girl who invents all sorts of cool machines, and wants to make the world a better place and she's great.
Rosie Revere, Engineer by Andrea Beaty illustrated by David Roberts
Recommended by Jo from Happytomato7
I love this book because it shows Rosie trying and FAILING and trying again, for the superb rhyming text that makes it a pleasure to read out loud, for David Roberts' wonderful illustrations and the visual nods to Rosie the Riveter.
She Stitched the Stars, by Jennifer Harris & Louise Pigott
Recommended by Nicola from Drawn to Science
It's not only about challenging society's gender expectations but also about encouraging our children and thinking about how we talk to them and how our words have impact. My daughter (age 6) particularly enjoyed this "mama's don'ts are invitations: Don't miss the nesting birds. Don't miss the sunrise. Don't you want to try this strawberry"
Princesses Don't Have Stinky Bums by Alice Clover
Recommend by Lucy from Memories Mapped
I love this book because it shows young girls that princesses can be independent, fun and adventurous not just pretty and quiet. Not only have the words inspired my daughter to live her best messy life she's started to tick off the included adventure list at the end of the book. I also really appreciate the colourful and inclusive illustrations throughout.
The Girls, by Jenny Lovlie & Lauren Ace
Recommended by Charlene from Love Gets Sweeter
My daughters favourite is The Girls. She's even taking it to school on Thursday dressed as her favourite character. What I love about this is the sisterhood…when I grew up the 'mean girl' and gossiping was hard for me and I just thought all girls grew up to be mean and so had mainly male friends. There's also a wonderful gay relationship and a Hindu marriage. They all grow up to follow their skills and dreams, from an explorer to a doctor and even a public speaker. I wish I had had something like this at 7!
Girls Can Do Anything by Caryl Hart
Recommended by Beci from From Little Greenwoods
Girls Can Do Anything is a lovely picture book which talks about how girls can do whatever they like regardless of gender, from building to dressing fancy. It also talks about how all girls are different and no one is like the reader. There's a lovely affirmation at the end that my daughter likes to repeat after me.
Mighty Min
Recommended by Luana from Get Off My Back
I really love "Mighty Min" – she aspires to her aunties tales of bravery until she faces one herself really young. Such a powerful message.
Fantastically Great Women Who Changed The World by Kate Pankhurst
Recommended by Laura from Save With Jewell
I love this book because it covers so many different women with a huge range of achievements and backgrounds, from Coco Channel, Rosa Parks and Anne Frank, it's impossible not to be inspired. It's also beautifully illustrated to really engage your kids attention.
'Not all Princesses Dress in Pink' by Jane Yolen and Heidi E. Y. Stemple.
Recommended by Kelly from Kelly Rogers Copywriting
We love 'Not all Princesses' because it has a great message that it's entirely possible to be a girl – to be a princess, in fact! – without limitations prescribed by clothing. In a world where kids' clothing is all too often polarised as 'pretty' OR 'practical', girls' OR boys', I love that this book is all about wearing whatever you want and just being you. Stinky socks, football boots, overalls – accessorised with jewels and a sparkly crown if you want! There are no rules, you can be your own kind of princess.
Julian at the Wedding by Jessica Love
Recommended by Cara from Design Hands Studio
This is one of the books we have that is equally enjoyed by our children (3 & 5 yo) and us adults. The story follows Julian and his friend Marisol at a wedding – 'a party for love' – and the mischief they get into, and out of together. The illustrations are beautiful, and the characters are full of warmth. The text is pared back and leaves room to explore the scenarios and for questions to be asked.
Juliana's Bananas, by Ruth Walton
Recommended by Rebecca from Kids Kitchen
This is one of our faves at Kids Kitchen and included in a list of foodie books we love. Taking a look at the lives of banana farmers in the Windward Islands, Juliana's Bananas explores how Fairtrade works and includes some simple recipes that are Kids Kitchen tested and approved. It's pretty empowering and gender-challenging too!
---
We've hope you've enjoyed all the recommendations from today, and from yesterday's Part 1. Do let us know what your favourites are, and share your own recommendations in the comments. And don't forget to check out some of these amazing indie businesses – many thanks for their contributions tom this post!
In other exciting news, our Book Worm T-shirt is now also available as a hoodie, in a choice of two colours!