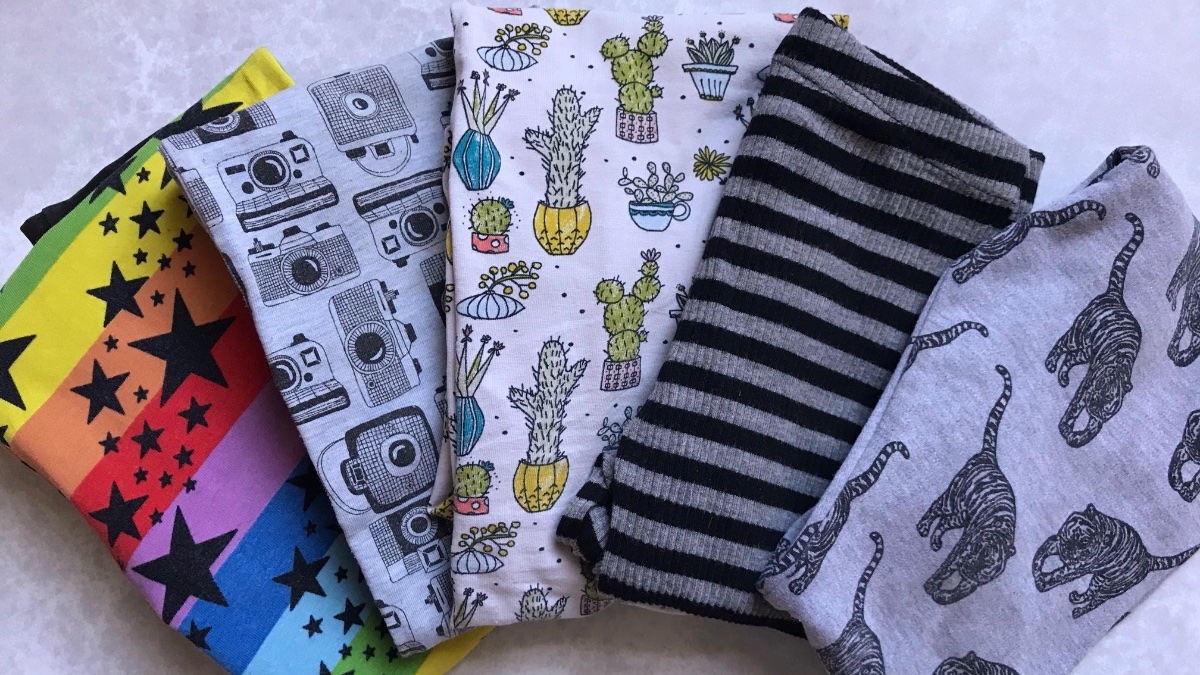 My 5 year old absolutely loves wearing leggings, he practically lives in them. When he started school last year, he was not at all impressed that he couldn't wear his beloved leggings to school and had to wear school uniform trousers instead. "They are too grey!" he said (can't really argue with that), and not as comfortable. While my elder son has always been more of a jeans and joggers kind of guy, he too has a pair of comfy leggings he likes to veg out in at the weekends. It's slightly more sophisticated than staying in your PJs all day. We don't sell any leggings ourselves, but today I wanted to share three leggings brands for kids that we love – and that we think go really well with our T-shirts!
Tutti Frutti Clothing
Our number one brand for kids leggings is Tutti Frutti Clothing. They are second to none in comfort and fit of all the leggings we have tried. My 5 year old owns several pairs in different designs. Tutti Frutti Clothing is a family run business based in Hertfordshire, England. As well as leggings, they also sell tops, dresses and a few other things, made from organic or other eco-friendly fabrics. Ali, who founded and runs the business and is herself a mum of three, is constantly on the hunt for new and exciting fabric designs, so the inventory in her shop is constantly changing. This means that you probably won't find exactly the same leggings as in our photos, but you'll be sure to find some other gorgeous designs instead. And you can also buy plain coloured leggings too. The leggings and other clothing are available from newborn size up to age 6, and there are a few things for grown-ups too.
Ada & Alfred
Ada and Alfred is another UK based family brand, run by mum of two Alex. We stumbled across it on Twitter – having an Alfred ourselves, the name caught my eye! Ada and Alfred sell a range of products, including Kidswear, Womenswear, Menswear and Accessories. They don't actually sell that many leggings in their Kidswear offering right now, but their Prowling Tiger Leggings are one of my son's favourite pairs. He wears them so often, I might have to buy another pair as they are starting to wear thin! The leggings are available from size 0-3 months up to 5 years.
Mar Mar Copenhagen
Finally, Mar Mar Copenhagen is a brand we discovered when we won a voucher to spend in a kids clothing boutique. They have a wide selection of leggings, which are mostly plain coloured or stripey. My youngest loves his stripey leggings, which are super cosy and go pretty much with anything. They are available in sizes newborn up to age 14.
---
What are your favourite brands for kids leggings? Let us know in the comments below. We are always on the lookout for new recommendations!
(Disclaimer: Please note that we are not associated with any of these brands in any way, and these are all personal recommendations based on items we have bought ourselves and simply love.)