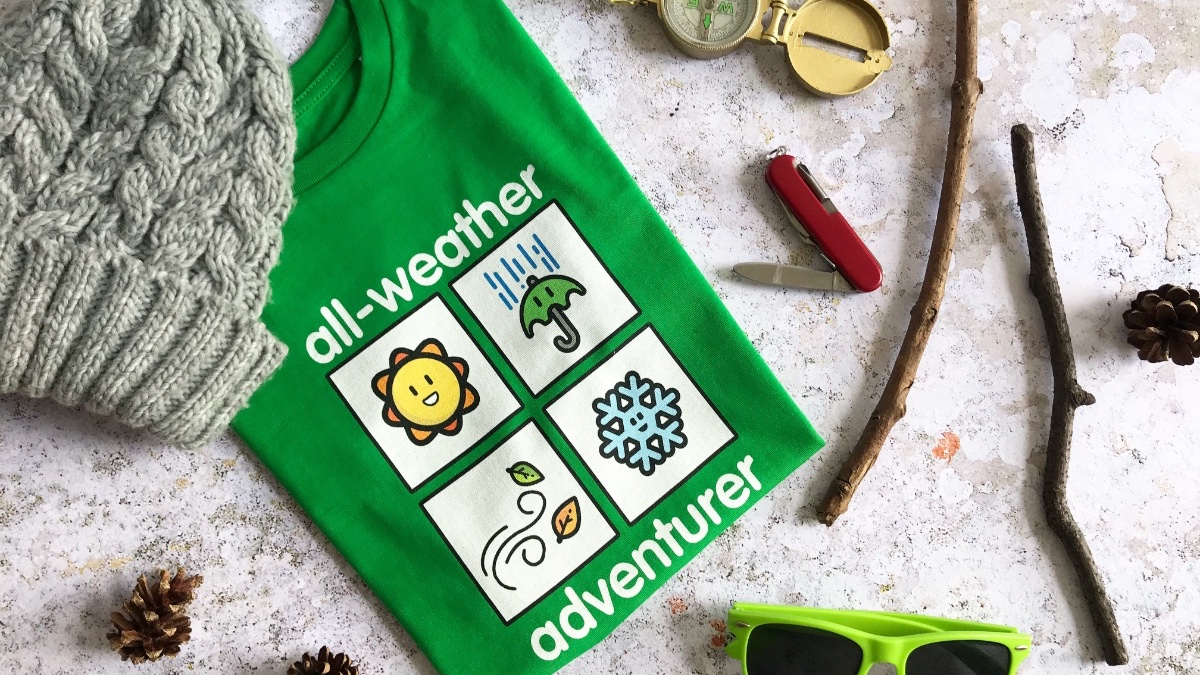 Every year in June, #30DaysWild kicks off here in the UK, an initiative by the National Trusts to get people out in to nature more. It could be something challenging, like bush crafting or building tree houses, or it could be something as simple as going for a walk outdoors to appreciate, enjoy and engage with nature. Either way, it's the perfect thing for an All-Weather Adventurer to get involved in so we've pulled together our favourite bits and pieces to include in an Adventurer Kit, ready for exploring nature.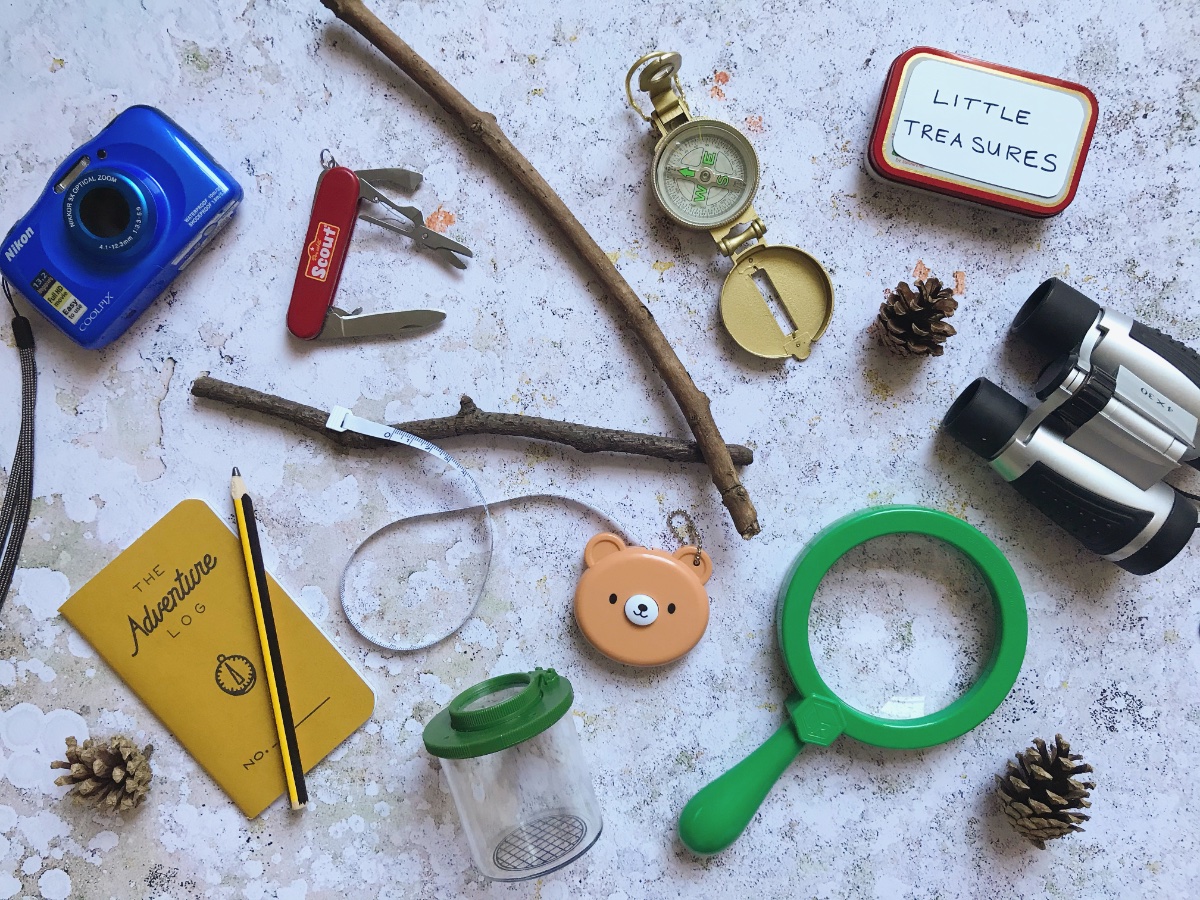 Compass – A compass feels like the ultimate tool for an Adventurer to have. It features in many an adventure story, and it's never too early to learn to read one.
Bug viewer – To examine creepy crawlies up close. Our one has a built in magnifying glass and ventilation holes. Remember to be gentle with any living creatures, don't keep them too long, and set them free again afterwards!
Magnifying glass – Although our bug viewer has a built in magnifying glass, we also have a regular magnifying glass in our kit too, for all those things that don't fit in the bug viewer. This jumbo one from Learning Resources is very robust and child proof.
Binoculars – If you have a magnifying glass to examine things up close, you'll also want a pair of binoculars to explore things further way, like birds or other animals hiding in trees.
Measuring stick or measuring tape – For measuring things while out exploring, like tree trunks or footprints. I got this cute bear shaped one when we were in Japan last year, but a regular one would also do. Just make sure it's child safe and not one of those metal ones that little people can trap or cut their fingers on!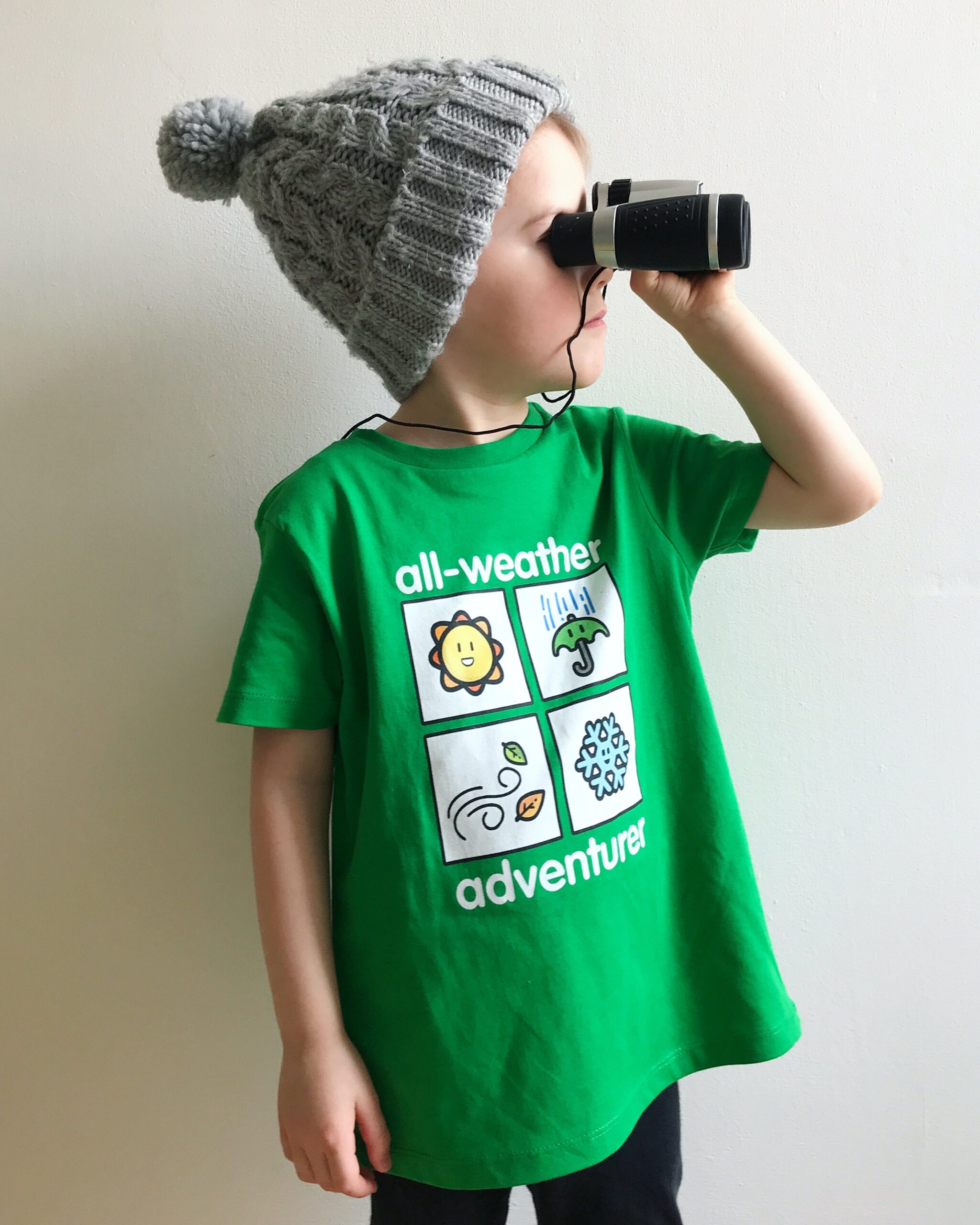 Camera – Our boys both have a camera, which they got for their birthdays when they turned 3. We looked at some of the kiddie cameras, but the quality of the photos didn't seem great (things may have advanced since then) so we decided to get them 'proper' cameras and did a lot of research to find ones that were child friendly and settled on the Nikon Coolpix. They are splash proof, dust proof and shock proof, and have stood the test of time so far.
Torch – If you are out exploring in the evenings, or anywhere there is low light (maybe a cave?) you'll find a torch very useful. My boys both have head torches for exploring, to keep their hands free, but you could include a small handheld torch instead.
Pocket knife – This depends a little on the age of your child and how much you trust them with sharp implements. My boys both have this children's pocket knife from the German brand Scout. In Germany, where we used to live, people seem a lot more relaxed about giving children knives. The Scout pocket knife includes a knife, scissors, bottle opener and screwdriver. I found a slightly more basic children's First Pocket Knife from Victorinox, which includes a knife and a bottle opener that doubles up as a screwdriver.
A Tin – Something to keep little treasures in that you find along the way. An old sweetie tin is perfect for very small treasures.
Notebook & pencil – Last but not least, when you are out exploring you'll want to record for findings, so a notebook and pencil and essential for any good Adventure Kit. I picked up these cute Adventure Log notebooks in Berlin, but any notebook will do or even just some pieces of paper cut to size and stapled together.
---
If you're going on an adventure, you'll also want to be dressed the part. Our All-Weather Adventurer T-shirt is available in our online shop!